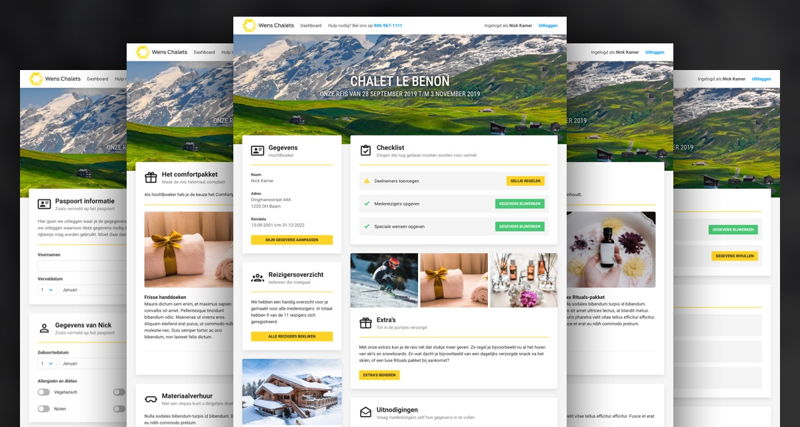 iVinci builds an end-to-end check-in system in just 2 months
Published by Aria on .

End of last year, iVinci rebuilt a check-in system for one of the leading chalet rental companies in Europe. The first result was delivered just a few days before the winter season started; the result of tight and daily co-operation with the various development teams and client representatives.
The process
We started with a set of meetings to gain absolute clarity as to what our client was expecting and how it should work out for users. We had daily meetings via video calls and a weekly meeting on location. In addition to talking to the project leaders, we also wanted to talk to the rest of the staff as we find that often brings points to the surface that are otherwise easily overlooked. With the tight deadline in mind, mistakes were not a luxury we could afford. Thinking along, our client brought in their own basic wireframes, which helped to communicate to us what they had in mind more quickly. After our new design was accepted, development could start.
Our approach
iVinci tends to work by a few key principles. One of the most critical ones is that we do not make assumptions, as we've found that that often leads to misunderstanding and disappointment. We kept the client closely involved in the development cycle by organizing weekly demos and feedback sessions. This helped to ensure that we stayed on track and that no unnecessary work was being done. We worked on an agile basis and decided to bypass a few time-consuming agile scrum elements to save time.
The interface
We tried to keep the design fairly minimal by using a card-based approach. This ensured that it would be easy to shuffle elements around but also kept the door open for future expansion without having to overhaul large portions of the website. A mobile version of the website was also easy to realize because of this.
At the core of the check-in system is the Dashboard, which provides a plethora of information at the glance of an eye, which is what people use the system for. It also helps the users of the platform, which are often not that tech-savvy, but still need to be able to find their way around.
Data model
A new data model and database were constructed for the client to follow their customers' online journey. Since our client has multiple databases within their organisation we even managed to build a datamodel and single database instance which takes in all actual and historic data. This appeared to be very useful for reporting and dashboarding purposes.
A solid finished product
We thoroughly enjoyed working with this client and are looking forward to continuing bundling our powers in the future as well.
Curious how iVinci can transform your business? Give us a call, we'd love to have a chat over a cup of coffee!
---